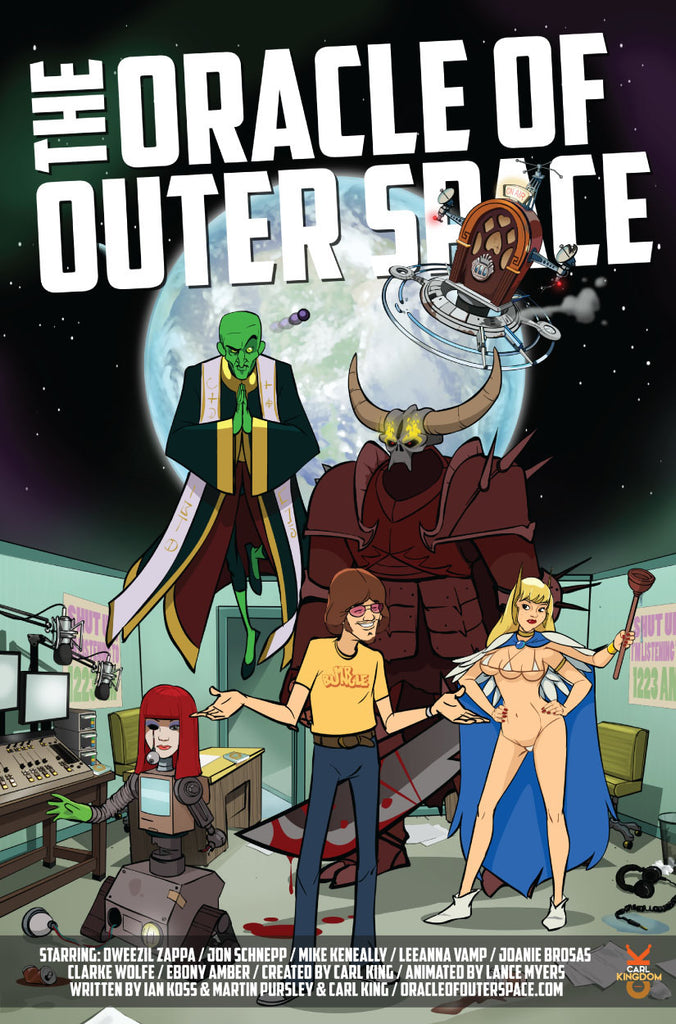 The Oracle of Outer Space (DIGITAL DOWNLOAD)
$ 0.00
OPTIONS:
1.) Purchase the 4K Digital Download (including Deleted Scenes and Bonus Features) on Vimeo-On-Demand. 
2.) Watch the HD-quality 12-minute episode on YouTube. 
The Oracle of Outer Space is an animated TV pilot starring Dweezil Zappa, Jon Schnepp (Metalocalypse), LeeAnna Vamp, Joanie Brosas, Mike Keneally, Ebony Amber, and Clarke Wolfe.
Created and Directed by by Carl King.
Animated by Lance Myers.
Music by Carl King.
Written by Carl King, Ian Koss, and Martin Pursley.
Dweezil Zappa: Gary Shostotonovonovich
Jon Schnepp: Bluudgor, The Butcher of Body Odor
Mike Keneally: Dr. Zeroz, The Planetary Master
Joanie Brosas: Arcana Thrice, The Polymorphous Space Princess
LeeAnna Vamp: Ship's Computer
Clarke Wolfe: The Vice Demi-Regent of Public Programming Matter Affairs
Ebony Amber: Dream Girl #11 of 9
Nils Rurack: Announcer
Mike Stone: Big Irv
Travis Orbin: Scientist
Zeke Piestrup: Ronald That
CALLERS / KICKSTARTER BACKERS
Caller #1 - Waxy Casketfingers (Mel Hour)
Caller #2 - Xander Danderpuff (Steven Smith)
Caller #3 - Axl Rose (John Marhefka)
Caller #4 - Yoga Mommy Warbucks (Samantha Haynes)
Caller #5 - Wrong Number Ron (Q Fortier)
Caller #6 - Stan (Richard Yu)
Executive Producer Credits: Q and Timothy Lawson
Drums on Waffle Apocalypse - Travis Orbin
Corporate Sponsors:
Andrew Hahn / Black Armour Helmets
Brendan Davis / Big Fish In The Middle Kingdom
Ebony Amber recorded by Preston Parish
Special Thanks to Cole Johnson for Ronald That.
Girl #1: Belén Ortiz