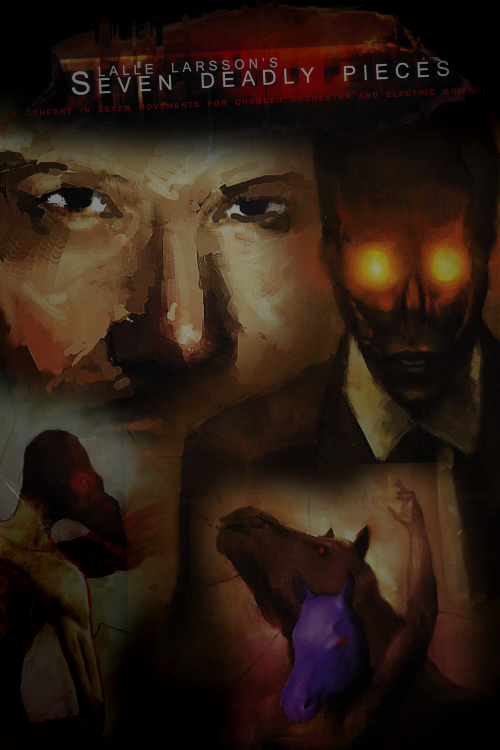 Lalle Larsson: Seven Deadly Pieces (Concert)
$ 9.99
Purchase this Concert as a Digital Download through Vimeo On Demand: https://vimeo.com/ondemand/sevendeadlypieces
Swedish piano virtuoso, Lalle Larsson, performs his Seven Deadly Pieces: a concert in seven movements, for chamber orchestra and thrash metal band. Based on the Seven Deadly Sins.
Recorded Live at Henry Dunker Culture Center in Helsingborg, Sweden, October 6, 2002.
SD / PAL / All Regions
Lalle Larsson (piano & keyboard)
Niklas Fredin (trumpet & flugelhorn)
Jan Karlsson (electric bass & acoustic bass)
Christofer Malmstrom (electric guitar)
Stefan Rosqvist (electric guitar)
Peter Wildoer (drums & percussion)
Johan Bridger (marimba & vibraphone)
Thomas Widlund (marimbra & vibraphone)
Daniel Palsson (percussion)
Jonas Holmberg (percussion)
Paul Slawic (violin 1)
Kristina Gustavsson (violin 2)
AnnaKarin Holm (viola)
Marit Sjodin (cello)
Malin Pettersson (flute)
Produced by Lalle Larsson.
Art & Illustrations by Jakob Tuchten.
Filmed and edited by Per Christoffersson, Lalle Larsson, and Johan Larsson.